Who will benefit?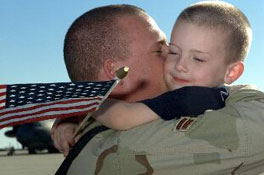 Military families, whether they be active duty moving around or with the National Guard needing to know what is out there- will be able to find the information they need, when they need it.
Civic leaders, organizations, churches, military program managers wanting to know important information about military family life and the resources available to families will benefit from this publication. Organizations wishing to better network with the military community will find this book to be an excellent starting place to forge relationships that will serve and grow their memberships and mission.
This book does for military families what Dr. Spock did for new parents- it's a resource getting you in touch with your skills and the resources you need to make the most out of your military life.
This resource is a hand-held portal for communities to learn how to best serve military families and to get in touch with our nation's finest.